APIDURA - RACING LONG TOP TUBE PACK 2L
SKU: APTRX
Items available on our website are not always available in-store, some are only held by our suppliers. In-store items usually arrive 2-3 days after the order is placed (rural deliveries can take an extra 2 days). Items only held with supplier might take up to 5 days to arrive, depending on the supplier. Please contact us if you have specific questions.
Items in new, unused condition in the original packaging can be returned for a refund within 30 days of the original purchase date. See our full returns policy.
---
The Racing Long Top Tube Pack is designed for ultra-distance cycling competition and the needs of time-conscious riders for who need to carry a bit more, have smaller frames or simply want more close-to-hand storage while riding. With a fully waterproof two-way zipper and reinforced straps for stability, this waterproof top tube bag is ideal for storing battery packs, mobile phones, layers and race essentials.
Constructed from an ultralight laminate developed for Apidura, this bag fastens securely to the top tube, stem and seat post and works alongside a wide range of frame bags. An adjustable internal divider and the fully waterproof two-way zipper make it easy to arrange and access belongings, while keeping everything dry.
A closed-cell foam padding structure protects your frame and electronics from damage and for added convenience, a protected cable port enables charging of devices on the go. Specially designed, high-contrast reflective features enhance side visibility in all light conditions.
The Racing Long Top Tube Pack is a useful standalone bag for daily riding or as part of a full Racing Series setup. For smaller sizes, see our Racing Top Tube Pack.
Foam base and adjustable internal divider to protect contents
Bespoke, fully waterproof two-way zipper
Slim-line design to avoid knee rub
Protected cable port
Reflective graphics for 24-hour visibility
Ultralight, waterproof construction


RACING SERIES
Designed for the specific demands of ultra-distance competition and audax.
---
specifications

---
Materials
The Racing Top Tube Pack is made from Hexalon, a bespoke laminated fabric developed specifically for Apidura. Designed to fit the demands of ultra-distance competition and audax, the material is waterproof and lightweight, with strong tear and abrasion resistance.
The attachment points are reinforced with Hypalon, a durable rubberised nylon that provides extra protection against friction and puncture.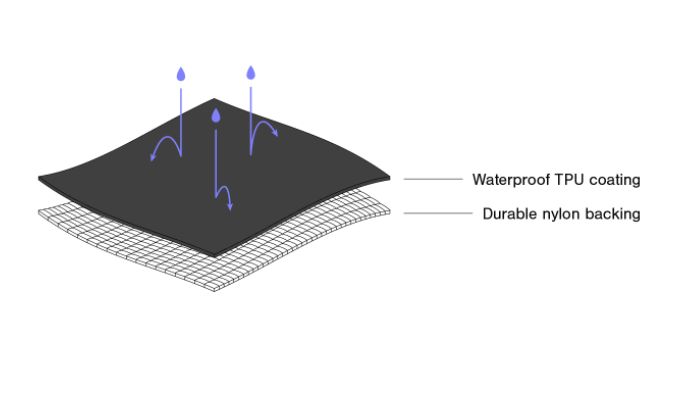 ---
Care Instructions
Wash the Top Tube Pack by hand, using a mild diluted soap if necessary. Afterwards, let it air dry.
Do not machine wash, machine dry, or iron.
---
APIDURA
We're an independent, family-run business of cyclists, makers and problem solvers, brought together by a shared mission to find better ways to explore the world by bike.
Apidura was born from necessity; pioneering ultralight, rackless packing systems to help us take our love of cycling further and allow riders to unlock their instinct for adventure. As devoted adventure cyclists, we design with our fellow riders in mind, creating products that address genuine needs and bring new value to the bikepacking scene. We create the best packs we can, using technical materials and precision crafting techniques – and when we find a way to improve them we do so straight away and without fanfare. We don't do 'seasons', limited editions or discount our gear – we simply create the best possible technical bikepacking gear that's built to last.